Our Services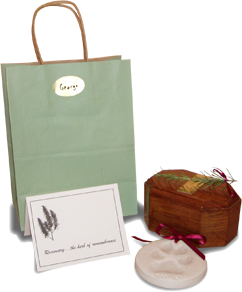 Our basic service is a private cremation with return of your pet's ashes enclosed in the lovely wooden urn pictured on the left. We provide a small plaque suitable for engraving and attaching to the urn if you choose to do so in the future. In most cases we can make an impression of one of your pet's paws. These are fashioned in clay, baked and tied with a ribbon. You will receive a Certificate of Cremation signed by one of our staff that also expresses our sympathy to you and your family. We include a sprig of rosemary, the herb of remembrance, cut from one of the bushes we planted at the crematorium many years ago. In most cases, we can offer a 24 to 48 hour turn-around to provide closure to your loss.
Another option is communal cremation. Communal cremation is a more economical alternative where several pets are cremated together. The process is the same but ashes are removed as a whole and are not returned to owners. These cremains are scattered at sea or on the farms of friends of Southeastern Pet Cremation.
We do maintain an inventory of cremation urns other than our stock wooden urn. These are for sale on site and range from simple wooden boxes in selected woods to marble, porcelain, pewter and brass selections that may better match your decor. Several of the wooden urns will accommodate a favorite picture of your pet and these have been very popular with customers in the past.
For more information, please contact us.